Welcome to NickNorfleet.com
---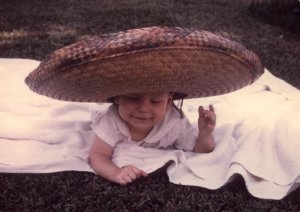 I was born in Houston, TX. That's a picture of me when I was still pretty new to this world. Cool hat huh. What can I say, it was the '60's. We moved to Conroe, TX when I was about 5 years old. We lived pretty close to Lake Conroe where I did a lot of fishing and some water skiing. I moved back to Houston when I was 16 and graduated from Dulles High School in Stafford, TX. I worked for Hi/Lo Auto Supply for a couple of years and decided it was time to grow up so I joined the US Navy.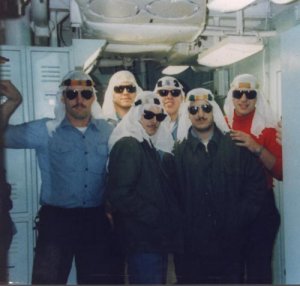 While in the Navy, I went to Gunner's Mate school in Great Lakes, IL which is just north of Chicago. That was the coldest winter I'd ever seen. (Super Bowl weekend, January 1985, it got down to -26 with a wind chill of -82.) My first ship was the USS Stark (FFG 31) out of Mayport, FL. I was the ship's armorer, small arms instructor, range master, Ship's Self-Defense Force Coordinator as well as training of security alert teams. I spent a little over two years on board and did a tour of the Great Lakes and the Persian Gulf as well as refresher training in Cuba. That's a picture of some of my buddies as we were going through the Suez Canal. This is where I got my first taste of working with computers and I guess it stuck. I then transferred to a pre-commissioned unit called the PCU Papago in Norfolk, VA. I was there for just under a year before my time was up. When I came home, I went back to work for Hi/Lo Auto Supply.
I worked in the computer center for Hi/Lo for a couple of years installing the computer systems in all the stores. I think our first unit was a Texas Instruments 286 machine running SCO XENIX. We traveled a lot to all the different stores throughout Texas and Louisiana. (Hi/Lo was bought out by O'Reilly Auto.) I then decided it was time to further my education so I quit my job at Hi/Lo and went to work part time at PC Connexion in League City so that I could go to school at the University of Houston. I only went to school for a year, stupid me quit and got married instead of studying. I know, I know, I should have gone on to get my degree.
I worked for PC Connexion for about 3 years as their field service tech when I got a job at Compaq Computer Corporation. I started off in Tech Support answering the phones. I finally moved on to be a Systems Analyst in the Internet Services department. I was with Compaq for 6 years before I decided to further my career and became a consultant with BMC Software. I traveled to different customers and helping them with their Internet stuff and then again with end user administration. I'm a Microsoft Certified Professional and was working on getting my MCSE but decided it wasn't really worth it.
Thanks to Enron and what happened on September 11, 2001, the computer business just wasn't the same. I decided it was time to retire from the computer business so I tried working in the mortgage business for about a year. I realized it wasn't the career for me so I decided to pack up and head west. I landed in Las Vegas and I love it more and more every day. When I got to Las Vegas, I knew I wanted to get into the casino business and become a pit boss so I went to dealer school and studied blackjack. I started dealing blackjack and learned all of the other games like roulette and craps. After a few months of dealing, I was promoted to supervisor.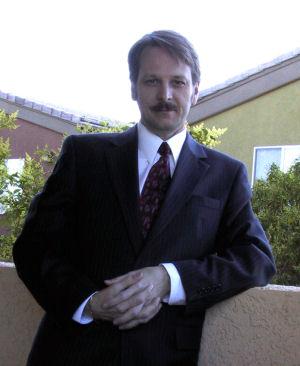 I don't have any kids but I did have a cat that was pretty cool. He lived to be 20 years and one month. He liked to sleep, especially on my briefcase, watch TV, play fetch, sleep, eat, sleep. The basic cat stuff. I really did teach him to play fetch though.

I also enjoy reading quite a bit. My favorite authors are Michael Crichton and James Patterson but my all time favorite is Clive Cussler, founder of NUMA. I really enjoy the Dirk Pitt series and even own the same watch that Dirk wears in the book. It's a Doxa Sub 300T Professional with the orange face.

I like to play golf when I can and like most amateurs, I have my good days and my bad days. I've seen the best in the world like Tiger and Annika play and it makes you want to keep on playing. I went to the 2003 LPGA World Championship in The Woodlands. Check out the autographs I got.

I've always wanted to learn how to fly so I finally decided to get my pilot's license. I was about half way through training when my flight instructor got his job back at one of the airlines so I've put this on hold until I decide to go back and finish. So, I decided it was time to do something else that I've always wanted to do.

I found a scuba shop here in Vegas (yes, they exist in the desert) and started taking more classes. I was certified to dive in 1991 but never really did much diving. I did a lot of diving in Lake Mead and it started out just having some fun but then I decided to become an instructor. The first professional level for PADI is Divemaster and then I moved up to Assistant Instructor and then on to Instructor. A little more training and I am now a PADI Master Scuba Diver Trainer. It's fun teaching new students and I can make a little extra money on the side and still get to have fun diving. I love going to Florida and diving in the Keys. Some day I'd like to try to go diving on all seven continents. I've also recently become an instructor for SDI so now I can teach for 2 different agencies. Check out my other site for diving at AnchorDivers.com.

Another side business I started that I wish I would have done 20 years ago is being a firearms instructor. I loved teaching people to shoot in the Navy and I've always been good at shooting so I finally decided to make it official. The NRA is the best organization for firearms training and I couldn't think of a better group of people to work with. I finally became an NRA Certified Firearms Instructor for Basic Pistol, Personal Protection In the Home, and Personal Protection Outside the Home. I'm also an NRA Certified Chief Range Safety Officer. If you ever want to take a class or become an instructor, just go to www.nrainstructors.org. Who knows, maybe you'll even be in one of my classes. You can go to that site at AnchorShooters.com.

Here's a bunch of pictures that I found of our troops in Afghanistan and I hope they have a sense of humor.

Here is a map of the Navy ship museums that I've been to. Since I love military movies, here is a list of actors who served in WWII.

I've always had an interest in motorcycles and like most kids, my mother refused to let me have one. I finally bought my first one while I was in the Navy. It was a 1984 Honda Shadow 500. Later on, I had a 1984 Honda Shadow 1100. Currently, I have two motorcycles, a 2017 Honda CBR300R and a 2020 Kawasaki Ninja H2 SX SE+.