A well regulated militia,
being necessary to the security of a free State,
the right of the people to keep and bear Arms,
shall not be infringed.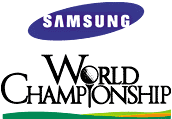 I went to the LPGA Samsung World Championship at the TPC course in The Woodlands, TX. It was an awesome event and to be able to see the top 20 women players in the world was amazing. I sat on the 9th green on Saturday until Annika Sorenstam's group made it up. I then followed her group for the rest of the 18. After the round was over, I sat in front of the club house to try to get autographs. I was surprised at how many of the players would stop by to give an autograph. They were all so nice and were more than willing to take their time with the fans. I also got a ball from Se Ri Pak's caddie and later asked her to sign it. She was surprised when I handed her her own ball. Annika went straight to the practice green and worked on putting for an hour. When she was finished, she gave an autograph to everyone there. I asked her caddie for a ball but he was out for the day but said he'd remember me if I came back tomorrow.

On Sunday, I arrived a few minutes after Annika made her tee shot on hole one. I caught up with her as she was making her second shot and followed her through 18. On the fifth green, she had made her putt and was waiting for Se Ri Pak to make her putt. Annika's caddie noticed me and swapped balls with Annika and tossed her ball to me. It was the highlight of my day.

These are the autographs that I got.

| | |
| --- | --- |
| Annika Sorenstam | Grace Park and Juli Inkster |
| | |
| | |
| Rachel Teske | Angela Stanford and Cristie Kerr |
| | |
| | |
| Annika Sorenstam's Ball | Se Ri Pak's autographed ball |
| | |